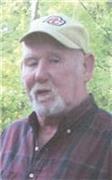 Lewis E. "Eddie" Zickafoose, age 75, of Sturgis, passed away Monday morning, March 28, 2016, at Borgess Medical Center in Kalamazoo.
He was born June 5, 1940, in Sturgis, a son of the late Earl and Mary (Cheney) Zickafoose.
Eddie was a lifelong Sturgis resident. He was married to Evelyn White, who preceded him in death March 28, 2004.
Eddie owned and operated Village Produce in Constantine and, with his son Jeff, owned and operated EZ Tree Experts in Sturgis. In his younger years, he worked in the RV industry.
He enjoyed NASCAR, fishing and was known for his sense of humor.
He is survived by four sons, Randy (Kimberly) Zickafoose of Sturgis, Jerry (Anita) Zickafoose of Otsego, Roy Zickafoose of Sturgis and Larry Falkenstein Jr. of East Chicago, Ind.; two daughters, Peggy Day of Mendon and Linda (her finance, Danny Blizzard) Falkenstein of Sturgis; 19 grandchildren; 14 great-grandchildren; and many nieces and nephews.
He was preceded in death by his parents; his wife; a son, Jeffery Zickafoose; two granddaughters, Jessica Zickafoose and Ariel Falkenstein Burnau; and two brothers, Arthur and Robert Zickafoose.
The family will receive friends from 2-4 p.m. and
6-8 p.m. Friday at the Rosenberg Chapel of Hackman Family Funeral Homes, 807 E. Chicago Road, Sturgis. Funeral services celebrating the life of Lewis Zickafoose will be held at 2 p.m. Saturday at the funeral home. A graveside committal will follow the service at Burr Oak Cemetery in Burr Oak.
In lieu of flowers, memorial donations would be appreciated to Hackman Family Funeral Homes, P.O. Box 9, Sturgis, MI 49091, to help with expenses.
His obituary is also at www.hackmanfamilyfuneralhomes.com, where personal messages of support may be left for the family.