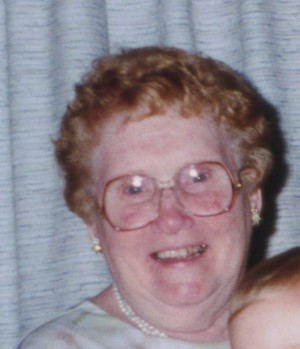 Mrs. Gladys Mae McClain, age 89, of Three Rivers, passed away peacefully on Wednesday, March 23, 2016 at the Riverview Manor Nursing Home following a lengthy illness. She was born on Nov. 7, 1926, in Three Rivers, MI., the daughter of the late Vernon and Daisy (Roberts) Wright.
Gladys graduated from Constantine High School in 1946. In 1948, she graduated from Chardell Beauty School in Kalamazoo. On July 3, 1948 she was united in marriage to Albert "Dean" McClain in Constantine, MI. In 1978 Gladys began work for Halloway Real Estate where she earned her realtor's license and later worked for Lammon Realty. She was an assistant manager at Kentucky Fried Chicken for several years and retired from Big Lots in 1990. Upon retiring she was a volunteer for the Three Rivers Hospital Auxiliary and active with Three Rivers Commission on Aging.
Mrs. McClain was preceded in death by her parents, her husband, Albert "Dean" McClain, and one son, Kurt McClain.
She leaves to cherish her loving memory, one daughter, Nancy Hurst, of Three Rivers; three sons, Gary (Mary) McClain, Randy (Patty) McClain, and Barney McClain, all of Three Rivers; three sisters, Grace Crum, Joan (Bud) Miller and Julie (Hal) Teuscher; one brother, Carl (Rosie) Wright; ten grandchildren, Jeff and Jon Hurst, Nick and Amy McClain, Gary and Kurt Alwine, Rusty, Steve McClain, Stephanie Allen, and Aviell McClain; nine great-grandchildren and several nieces and nephews.
The family will receive friends from 2-4 p.m. and 6-8 p.m. on Monday, March 28, 2016 at the Hohner Funeral Home.
Funeral services will be held 11:00 a.m. on Tuesday, March 29, 2016 at the Hohner Funeral Home with Pastor Terry Neumayer officiating.
Interment will be held in Pleasant Valley Cemetery, Middlebury, Indiana.
Memorial donations may be made to the American Heart Association. Envelopes available at Hohner Funeral Home in care of arrangements. Online condolences may be left at www.hohnerfh.com .