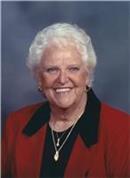 Joan Eldridge, age 85, of Burr Oak, passed away Saturday afternoon, March 5, 2016, at Sturgis Hospital in Sturgis.
She was born Feb. 20, 1931, in Franklin, Ky., a daughter of the late Joseph and Mamie (Biggs) Bunch.
Joan had resided in Burr Oak since 1963, coming from Orland, Ind. Her early life was lived in Kentucky.
For several years, she was a school bus driver for Burr Oak Community Schools and Sturgis Public Schools. She also had been employed by Burr Oak Rubber Products and Dorr Products, both in Burr Oak.
She was a member of Sturgis Church of the Nazarene. Joan also was a member of the National Rifle Association and a supporter of Wounded Warrior Project and the American Legion. She had many hobbies and interests, including ceramics, gardening, riding motorcycles, boating and waterskiing, especially enjoying time on Klinger Lake. She also was a semi-truck tractor-trailer driver.
Joan is survived by four sons, Thomas M. (Sylvie) Eldridge of Greensboro, N.C., Mark A. (Cheryl Becker) Eldridge of St. Ignace, Ronald J. (Anita) Eldridge of Sturgis and Christopher L. Eldridge of Harrison; a daughter, Brenda Kay (Lloyd) Taaffe, of Waco, Texas; 10 grandchildren; seven great-grandchildren, and expecting one in April; and a sister, Linda Halbakken of Franklin.
She was preceded in death by a son, Timothy Maxwell, Eldridge; her parents; a brother; and three sisters
In accordance with her wishes, cremation has taken place. The family will receive friends from 4-5 p.m. Thursday, March 17, at Sturgis Church of the Nazarene, 70031 S. Lakeview Ave., Sturgis. A memorial service celebrating the life Joan Eldridge will begin at 5 p.m. Thursday, March 17, at the church. The Rev. John Shoup will officiate. Burial of the ashes will take place at a later date at Black Jack Cemetery in Black Jack, Simpson County, Ky.
The Hackman Chapel of Hackman Family Funeral Homes, 114 S. Nottawa St., Sturgis, is entrusted with the arrangements.
Memorial donations would be appreciated to the charity of one's choice .
Her obituary is also at www.hackmanfamilyfuneralhomes.com, where personal messages of support may be left for the family.