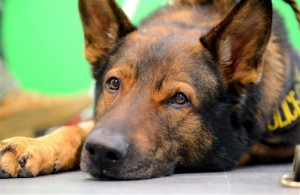 An agent with the federal Bureau of Alcohol, Tobacco, Firearms and Explosives credits Michigan State University veterinarians with saving his K-9 partner's life in late January.
Jeff Perryman of DeWitt rushed Ike, a 7-year-old German shepherd, to an after-hours clinic where he underwent surgery for a twisted stomach when he first became ill around Jan. 22 while the two were at the bureau's National Academy in Georgia, Perryman told the Lansing State Journal. The dog became ill again after the pair returned to Michigan, so Perryman took him to the MSU Veterinary Medical Center.
Veterinarians performed an ultrasound and determined that Ike had a rare condition where the entire intestinal track twists. He underwent surgery a second time and was able to pull through despite low odds of survival.
Perryman crawled into the dog's cage and stayed by his side for five days after the major surgery. Ike would howl when Perryman attempted to leave the cage.
"It was touch and go for a while," Perryman said.
More than a month after the procedure, Ike is back to normal.
But the dog's close call with death shook up Perryman, who considers Ike to be much more than just a work partner.
"It's like a family member that goes to work with you every day, that goes home with you every night, and throughout that time period, they watch your back and protect you," Perryman said. "He's tremendous."
Ike is among 11 highly trained dogs in the U.S. used by the federal Bureau of Alcohol, Tobacco, Firearms and Explosives to apprehend violent suspects.
"Everything is very clear to him. He learns quickly. He loves to train, loves to work. He enjoys people. He understands when to work and when to play," Perryman said.  (AP)