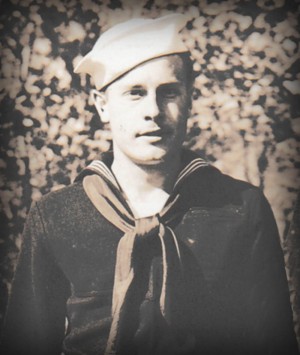 Roy Leon Hackenberg, 98, of Three Rivers, passed away on Friday, March 18, 2016 at Brookdale Assisted Living Center, Ann Arbor. Roy was born on March 13, 1918 in Flowerfield Township, Michigan the son of Frank Arthur and Lillie Belle (Kline) Hackenberg.
Roy graduated from Three Rivers High School in 1936. On Jan. 28, 1941 he was united in marriage to Geraldine (Geri) E. Baker.  He served in the U.S. Navy during WW II aboard a Navy Destroyer Escort in the Pacific theater.
Together, Roy and Geri were very active in the Three Rivers community.  They were long-time members of First Presbyterian Church of Three Rivers/Centreville. Roy served the church as a Deacon and Elder. He was a member of the T.R. Chamber of Commerce, the T.R. Rotary Club, the Fraternal Order of Eagles #2303, the Elks Lodge #1248 and the American Legion Hice-Shutes Post #170.  He was past president of both the Sauganash Country Club and the T.R. Jaycees.  Roy was awarded the Silver Beaver Award – a council level distinguished service award of the Boy Scouts of America.  Roy was a successful businessman, owning Hackenberg-Schreiber Insurance Agency from 1941-1977, co-owner of Royal Realty, and developer of River Glen Apartments and Condominiums.
Mr. Hackenberg was preceded in death by his devoted wife on April 11, 2011; parents; three brothers, Guy, Maynard and Glen; three sisters, Della Turner, Laura Miller and Lola Babcoke.
Roy leaves to cherish his memory, his loving family of three daughters, Linda (Frederick) Hammond of Ann Arbor, Ann (Spencer) Curtis of Durham, NC and Susan (Howard) Cook-Hackenberg of Newaygo; two sons, Larry-Michael (Becky) Hackenberg and James (Cynthia) Hackenberg, both of Three Rivers; seven grandchildren and seven great-grandchildren.
The family will receive visitors one hour prior to funeral services which will be held at 10:30 a.m. on Tuesday, March 22, 2016 at the First Presbyterian Church, Three Rivers, with the Rev. Brenda Deily officiating.
Interment will be held immediately following the service at Riverside Cemetery.
In lieu of flowers, memorials may be given to the First Presbyterian Church, 320 N. Main Street, Three Rivers, MI 49093. Envelopes available at the church or Hohner Funeral Home in care of arrangements. Online condolences may be left at www.hohnerfh.com.