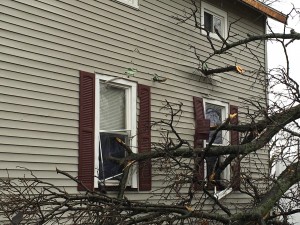 Cass County's E-911 Central Dispatch fielded a number of calls Thursday regarding structural damage caused by high winds.
According to an agency media release, the dispatch center around 3:30 p.m. had received a number of calls from the village of Edwardsburg regarding several reports of downed trees.
Many trees were uprooted, several homes received wind damage to shingles and siding, a few homes sustained major damage due to trees falling on them, and a railroad crossing arm was damaged at US-12 and M-62.
No injuries have been reported.
The National Weather Service will report its findings after damage assessment is completed.