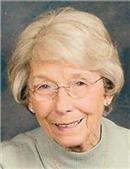 Marcus Ann Maher, age 85, of rural Sturgis, died Wednesday, April 20, 2016, at her home.
She was born Feb. 25, 1931, in Rochester, a daughter of Alanson and Winifred (Welch) Hobart.
She received her bachelor's degree in education from Eastern Michigan University.
On Nov. 27, 1951, Ann married Richard O. Maher in Vasser and they moved to Sturgis the following year.
She was a former member of the Newcomer's Club, Sturgis Garden Club, the Klinger Lake Country Club, and a lifetime member of the Elks. She attended Holy Angels Catholic Church and later St. Clare Catholic Church in Centreville, where she was a member of both altar societies. Ann loved to read and enjoyed creating works of art in needlepoint and cross-stitching. She was a self-taught gourmet cook and enjoyed entertaining family and friends, especially her beloved grandchildren.
Ann is survived by four children, Kathy (William) Adams of Golden, Colo., Martha (Brad) Scott of Highlands Ranch, Colo., Charles (Christine) Maher of Sturgis and Margaret (Dan) Maher of Lee's Summit, Mo.; 13 grandchildren, Austin (Lindsay) Adams, Ashleigh (Mark) Adams, Benjamin (Kimberly) Scott, Corey Scott, Abigail (Chris) Britt, JoDell Maher, CJ (Sarah) Maher, Maxwell (Kattie) Maher, Simon (Lauren) Cholometes, Nick (Teresa) Woods, and Jacob, Jeff and Kevin Fortin; and 10 great-grandchildren.
She was preceded in death by her parents; her husband, Richard; and a son, Kevin Patrick Maher.
In keeping with her wishes, cremation has been conducted. A private family service will be held later and interment will take place in St. Edward Catholic Cemetery in Mendon.
Memorials in memory of Ann Maher may be directed to either Habitat for Humanity of St. Joseph County, P.O. Box 96, Three Rivers, MI 49093; or Soup Supper of Centreville, c/o Centreville United Methodist Church, 305 E. Main Street, Centreville, MI 49032.
Condolences may be expressed to the family online at www.eickhofffuneralhome.com.