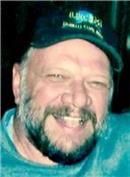 Brad Lee Wells, age 58, of Burr Oak, passed away early Tuesday morning, April 19, 2016, at his home.
He was born Dec. 21, 1957, in Sturgis, a son of the late Robert E. and Frances Jean (Wellington) Wells.
Brad was a lifelong Burr Oak resident and a graduate of Burr Oak High School with the class of 1976.
On Sept. 18, 1998, he married Jacquilyn "Jackie" Everitt in LaGrange, Ind.
Brad had been employed by Sturgis Iron & Metal in Sturgis for more than 30 years. He also had worked for Shimp Excavating in Bronson and as a bus driver and custodian for Burr Oak Community Schools.
Brad was a former member of Loyal Order of Moose Lodge #574 in Sturgis. He enjoyed throwing darts and participated in several dart leagues. He enjoyed fishing, farming and butchering. Many will Miss Brad's famous pig roasts. He had hobbies and involvements, but he truly found joy helping others and spending time with his family, especially his grandchildren.
He is survived by his loving and dedicated wife of 16 years, Jacquilyn; his children, Ian (Megan) Henderson of Goshen, Ind., and Brooke (Eugene) Haskins of Burr Oak; four grandchildren, Cierra, Wyatt, Finnian and Scout Haskins; his mother, Frances Jean Wells, of Burr Oak; a brother, Robert A. (Conni) Wells, of Johnson City, Tenn.; a sister, Denise (James) Hoisington, of Stanwood; a brother, Terri Wells, of Burr Oak; and several nieces and nephews.
He was preceded in death by his father; and a nephew, Wesley Wells.
In accordance with his wishes, cremation has taken place. The family will receive friends from 2-4 p.m. and 6-8 p.m. Friday at the Rosenberg Chapel of Hackman Family Funeral Homes, 807 E. Chicago Road, Sturgis.
A memorial service celebrating the life of Brad Wells will be held at 11 a.m. Saturday at the funeral home. The Rev. David Porter of Colon Church of Christ will officiate.
In lieu of flowers, memorial donations are appreciated to help with expense, to Hackman Family Funeral Homes, P.O. Box 9, Sturgis, MI 49091.
His obituary is also at www.hackmanfamilyfuneralhomes.com, where personal messages of support may be left for the family.