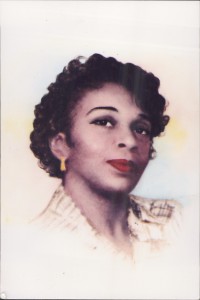 Dorothy Nalls Hardges entered this world November 5, 1922 in Lexington, MS as the second daughter to Tommie, Sr. and Charlena (Newman) Nalls. As one of twelve siblings, Dorothy was raised on her family's farm in Silver City, MS.
Young Dorothy enjoyed the richness of academic life and graduated from Piney Woods High School. She furthered her education and attended Stillman College in Alabama. Once completing her studies, she taught school for several years. Seeking greater opportunities, Dorothy and husband Fred Heard moved from Silver City, Mississippi to Chicago, Illinois, during the Great Migration. Dorothy took an assignment with the United States Postal Service. She remained a faithful and consistent worker until retirement in 1980.
Dorothy moved to Three Rivers, MI in 1983. She joined New Jerusalem Baptist Church and enjoyed attending service as much as possible.
Even still, Dorothy remained an active and vital member of her family. She was blessed to remain sharp as a tack for the rest of her years. In mid-2015, she returned to Chicago, Illinois. Dorothy Nalls Hardges was ultimately blessed to transition from life to the hereafter during peaceful rest on Thursday, April 28, 2016.
She was greeted in Heaven by a host of Angels, including her parents, Tommie, Sr. and Charlena Nalls, her dear Aunt 'Sis' (Evelyna H. Polite) her husband, DeWitt Hardges and one daughter, Charlene S. Heard.
As the oldest living member and matriarch of a family with many generations, Dorothy leaves a living legacy to cherish her memory, including three sons: Mitchell Heard (Renee) of Chicago, IL, Jerome Hardges of St. Paul, MN, Lawrence Heard of Three Rivers, MI, two daughters: Gwendolyn Hardges of Chicago, IL and Ouida Hale of Grand Prairie, TX, one brother: James A. Nalls, Sr. of Yazoo City, MS and one sister: Mary Alice Green of Silver City, MS. She further leaves her fifteen grandchildren, twelve great-grandchildren and a host of nephews, nieces and family friends to remember her intelligent mind, her wisdom and character.
The family will receive friends from 10:30 a.m. until time of funeral services beginning at 11:30 a.m. on Saturday, May 7, 2016 at New Jerusalem Church of Three Rivers. Online condolences may be left at www.hohnerfh.com.