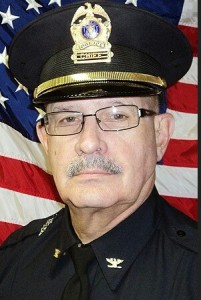 James L. Bedell, age 72, of Klinger Lake, died Friday, May 20, 2016 at his home following a battle with cancer. He was born October 9, 1943 in Durand, MI a son of LaVerne and Almehda (VanAuken) Bedell. Jim graduated from Saginaw Arthur Hill High School in 1961. He served in the US Navy from 1961 – 1963.  On February 4, 1978 Jim married Margaret "Midge" O"Dea in Owosso, MI. Following service in the US Navy, Jim was employed at General Motors in Saginaw and Chesapeake & Ohio Railroad. He then entered the Michigan State Police Training Academy and served his first Post in Owosso in 1974 for 2 years. Jim then transferred to the White Pigeon Post where he served for 20 years, later retiring in 1999 as Detective Sergeant at the Battle Creek Post. In 2000 Jim operated JLB investigations and worked for the St. Joseph County Friend of the Court. In 2009 he became the Chief of Police in Constantine, serving until his retirement in 2014. Jim was a member of Constantine American Legion, Three Rivers Elks and Eagles and served as past Worshipful Master of Sturgis Masonic Lodge # 49.
Surviving are his wife Midge Bedell, Klinger Lake; children James (Karen) Bedell, Brainard, MN, Scott Bedell, Three Rivers, Julie Bedell, Owosso, Jack (Cheryl) Bedell, Owosso, Mark (Wendy) Bedell, Stevensville, Matthew (Natalie) Bedell, Naples, FL; grandchildren, Zach, Brooke, Aaron, Kayla, Jake, Hope, Austin, Race, Summer, Joy, Luke and Jack; sister Yvette (Richard) Honeman, Sanford, MI. He was preceded in death by his parents.
According to his wishes cremation has taken place. Relatives and friends will be received Wednesday from 2-8 at the Eley Funeral Home in Constantine. Memorial services will be held at 11 am Thursday at Trinity Missionary Church, Constantine, with Pastor Dennis Smith, Messiah Lutheran Church, Constantine officiating. Interment will take place at a later date at St. Paul's Cemetery in Owosso. In lieu of flowers, memorial contributions may be directed to the Constantine Police Department Uniform Fund.  Online messages may be left for the family at www.eleyfuneralhomes.com.