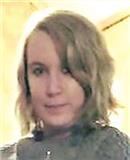 Kalene Sue Smoker, 22, of Colon, passed away on Wednesday, May 11, 2016, surrounded by her loving family at Borgess Medical Center in Kalamazoo.
A memorial service will be held at 3 p.m. Thursday, May 19, 2016, at Christian Fellowship Church in Sturgis, with Pastor Stephen Middleton officiating. Visitation will be held one hour prior to the memorial service at the church. The family is being cared for by Dutcher-Kolcz Funeral Home in Bronson.
Kalene was born July 6, 1993, to Paula Joan (Cox) Inman in Sturgis. Kalene was a member at Circle of Friends CMH Clubhouse in Sturgis, where she was affectionately known as the Queen. She loved music, singing, painting, coloring books, making dreamcatchers, fishing, camping, boating and family gatherings.
Kalene is survived by her mother and stepfather, Paula J. (Elgin) Inman III of Colon; her siblings, Kendra (Matt) Sias of Bronson, Kory (Cori) Smoker of Hawaii, Brandy (Phillip) Eckert of Union City, Candy (Michael) Lafontaine of Leonidas and Sarah Inman of Battle Creek; her grandparents, Johnny Cox of Bronson, Joan Wagner of South Bend, Ind., and Dolores (Elgin) Inman II of Leonidas; her fiancé, Shaun Tobias of Sturgis, who loved her with all his heart. She also is survived by many aunts, uncles and cousins who loved her very much.
Memorials may be directed to Circle of Friends CMH Clubhouse in Sturgis, 307 W. Chicago Road suite 100, Sturgis, MI 49091.