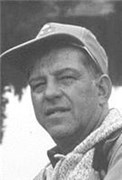 William L. "Dub" Dobberteen, age 85, of Sturgis, Mich., passed away Sunday morning, June 5, 2016, in Sturgis.
He was born Nov. 27, 1930, in Sturgis, Mich., son of the late Louis F. and Mabel (Kielkopf) Dobberteen.
Bill was a lifelong Sturgis resident and a graduate of Sturgis High School with the class of 1949.
On March 11, 1951, he married Shirley Geil in Rochester. She died Jan. 21, 1979.
On Feb. 28, 1981, he married Marjorie (Call) Gittinger in Midland.
Dub was a Master Plumber. He retired in 1992 from General Motors in Three Rivers following 12 years of employment. He also co-owned and operated with his sons Tom and John, Dobberteen Plumbing in Sturgis for many years.
Bill was a lifelong Lutheran. He was proud to have served his country in the U.S. Marine Corp during the Korean War earning the rank of Corporal. He was a longtime member of the Sturgis Lions Club. He also held memberships in Captain John J. Kelley Post #1355 VFW, Neuman-Wenzel Post #73 American Legion and the St. Joseph County Conservation & Sportsman Club. Bill enjoyed hunting, fishing and gardening and loved the many dogs he owned over the years.
He is survived by his wife: Marjorie; three sons: Thomas (Caryn) Dobberteen, John (Lynn) Dobberteen both of Sturgis and William M. (Barbara) Dobberteen of West Olive; one daughter: Nancy (Mike) Hagaman of Cypress, Texas; one step-daughter: Cheryl (Karl) Gittinger of Kalamazoo; two step-sons: Todd (Lori) Gittinger of York, Pennsylvania and Bradley Gittinger of Sturgis; seven grandchildren: William Dobberteen, II, Samuel Dobberteen, Thomas Dobberteen, Allyson Dobberteen, Megan Dobberteen, Jacob Hagaman and Kyle Hagaman; two great grandchildren: Oliver Dobberteen and Camryn Dobberteen; 10 step-grandchildren and 11 step-great grandchildren.
The family will receive friends from 6-8 p.m. Wednesday at the Hackman Chapel of Hackman Family Funeral Homes, 114 S. Nottawa St., Sturgis, MI 49091, 269-651-2331. Funeral services celebrating the life of William L. Dobberteen will be held at 11 a.m. Thursday at the Trinity Lutheran Church in Sturgis. A graveside committal will follow the service at Oak Lawn Cemetery in Sturgis. Full military honors will be conferred by Captain John J. Kelley Post #1355 VFW and the U.S. Marine Corp Honor Guard.
The family suggests those wishing to make a memorial donation in Mr. Dobberteen's memory consider the St. Joseph County Conservation & Sportsman Club, PO Box 339, Sturgis, MI 49091 or the St. Joseph County Animal Control, PO Box 252, Centreville MI, 49032.
The obituary is also at www.hackmanfamilyfuneralhomes.com where personal messages of support may be left for the family.