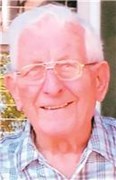 Fabian was born to Joseph and Mary (Kibiloski) Wood on Oct. 25, 1921, in Bronson, where he lived the first two years of his life. He and his family moved to 305 Susan Court, where he lived through his early 20s. After his discharge from the Army,Fabian built a home next door, where he lived with is wife, Ruth, until recently.
Anyone who knew him would acknowledge that he was a man of considerable talents. He was formally trained as a tool-and-die maker, but he also was a skilled carpenter and builder and was a successful businessman in the local community.
He graduated from Sturgis High School with the class of 1940. Shortly thereafter, he was called to serve his country in World War II. He did so proudly and spent most of his three years in the service in Alaska as a military policeman.
Upon his discharge, he returned to his beloved Sturgis, where he worked in the trades for a short time before going into business. He was a founding partner of Wood's Market, along with his brother Bernie. While operating the market, Fabian met another business-owner, Ruth Gerren, who ran a beauty shop a couple doors down on Chicago Road. That friendship led to their marriage in 1953. Fabian and Bernie successfully ran the market until the mid-1950s, when they sold it, only to embark on another successful business, Wood Motel. Fabian not only was the builder, but also the full-time proprietor. In 1966, he again decided it was time for an additional challenge. He built Wood Inn restaurant, which was located across the street from the motel. He ran that enterprise for several years before selling both the motel and restaurant in the early 1970s. True to his business model, he would pour the "sweat equity" into the businesses, get them up running successfully, then on to the next opportunity. Fabian was a past president of Sturgis Chamber of Commerce (1963).
In 1975, he built The Wood Inn II in Wolcottville, Ind., near the Indian Lakes area. It, too, was a success, and Fabian sold a few years later, supposedly to semi-retire. That time of "repose" was short-lived, as he kept busy doing construction and landscaping projects for family and friends in Michigan and Indiana, then "vacationing" in Okeechobee, Fla., at his residence there. As his wife, Ruth, would attest, he was as busy in retirement as he was when he was not. This led to the conclusion that Fabian was happiest when he had projects in the works and the idea of sitting around relaxing was not something he aspired to do.
Perhaps his happiest endeavor was helping his son and daughter-in-law run their trucking company, Maverick Express. Starting in 1995, Fabian dispatched, drove as an expedite driver (often with Ruth as his teammate) and in later years focused on maintaining the building and groundskeeping. He did this happily into his early 90s and every time he made the trip from Sturgis to Maverick's headquarter in Battle Creek, he always showed up with a box of doughnuts for the office staff and drivers.
While Fabian and "work" were synonymous, he always made time for his family and friends. he was a devoted husband to Ruth and a fabulous father to his daughter, Ruby Lynne, and son, Jim. He thoroughly enjoyed time spent with his grandchildren and being involved in their lives.
Any occasion to gather together with family and friends, especially if it involved food, was a happy event for Fabian. His homemade Polish sausage and sloppy-joes were his signature dishes.
His one great love in his life was his God and his faith. He was a member of Holy Angles Catholic Church for more than 90 years. His time spent saying his beloved Rosary was what gave him the most peace and solace in a world changing faster than he would have liked to see.
He was a member of Knights of Columbus for more than 76 years and was a former Grand Knight.
Fabian was preceded in death by his daughter, Ruby Lynne, who passed away in 1986. In addition, his parents and 10 brothers and sisters passed on before him to make ready his heavenly home. He is survived by his wife of 63 years, Ruth; son Jim and daughter-in-law Mary reside in Portage. Grandchildren included Mary Ruth Wood-Cogswell (Grandpa's "Peanut") and her husband, Jack, of Seattle; Joseph and Jesse Wood of Portage; Ruby Lynn's children are Kimberly Gilbert-Shay of Mattawan and Tim Seelig of Carmel, Indiana.
The family would like to extend special thanks to Dr. Yazdi Amaria for his friendship and wonderful bedside manner over the past 25 years. In addition, the staffs at Sturgis Hospital, The Villas and Thurston Woods Village are to be commended for the fabulous job in the way they administered care and compassion to Fabian over the past few years as his health declined.
Visitation will be from 2-4 pm and 6-8 pm Wednesday at Farrand Funeral Home in White Pigeon, where the Rosary Service will be at 7:30 p.m. Wednesday by Knights of Columbus. Visitation will be from 10-11 a.m. Thursday at Holy Angels Catholic Church in Sturgis. Mass of Christian Burial will be at 11 a.m. Thursday, with the Rev. Evelio Ramirez officiating. Interment will follow in Oak Lawn Cemetery in Sturgis.
Donations may be directed to Thurston Woods Village.