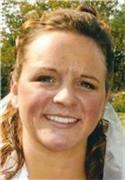 Jaime Nicole (Wilson) Schuler, age 34, of Sturgis, passed away unexpectedly Sunday, June 26, 2016, at her home.
She was born Dec. 26, 1981, in Sturgis, a daughter of Richard and Kathy (Molter) Wilson.
Jaime was a lifelong Sturgis resident and a graduate of Sturgis High School with the class of 2001.
On Oct. 10, 2009, she married Shawn Schuler in Sturgis.
Jaime was currently working at Rite-Aid Pharmacy in Sturgis, where she was working on her final credit for becoming a pharmacy technician. She also was working as a massage therapist and was always available to care for her Grandma Bea.
She enjoyed kayaking with Shawn, gardening and ice fishing and loved attending Bradyn's baseball games.
She is survived by her loving husband, Shawn; a son,: Bradyn Webb, at home; her parents, Richard and Kathy Wilson of Sturgis; a brother, Justin (Heather) Wilson of Grand Rapids; nieces and nephews Colyn Wilson, Emma Wilson, Sunshine Berglund, Sophia Wilson and Kennedy Wilson; grandmother Bea Molter of Sturgis; mother-in-law Phyllis Schuler of Sturgis; grandparents-in-law William and Lois Schuler of Sturgis; a sister-in-law, Tracey (Kurt) Rogers of Three Rivers; brothers-in-law: Zachary (AJ) Schuler of Elkhart, Ind., and Luke (Julie) Schuler of Sturgis; and several aunts, uncles, cousins and other nieces and nephews.
She was preceded in death by her grandfather, Carl Molter; and father-in-law, William "Biggie" Schuler.
In accordance with her wishes, cremation has taken place. A gathering of family and friends to honor and celebrate the life of Jaime Nicole (Wilson) Schuler will be held from 1-4 p.m. Saturday at VFW Post #1355, 264 W. Fawn River Road, Sturgis. Private burial of the ashes will take place at a later date at Oak Lawn Cemetery in Sturgis.The Hackman Chapel of Hackman Family Funeral Homes, 114 S. Nottawa St., Sturgis, is honored to be entrusted with the arrangements.
Memorial donations would be appreciated to Hackman Family Funeral Homes, P.O. Box 9, Sturgis, MI 49091, to help with expenses.
Her obituary is also at www.hackmanfamilyfuneralhomes.com, where personal messages of support may be left for the family.