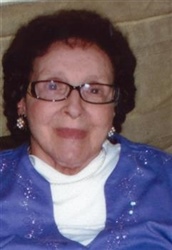 Joyce May Hoyt, age 83, of Three Rivers passed away peacefully surrounded by her family on Wednesday, June 22, 2016 at Fairview Living Center. She was born in Three Rivers, MI on October 6, 1932 the daughter of Roy Franklin and Jenny Bell (Kline) Haines.
Joyce graduated from Three Rivers High School with the class of 1950. She was united in marriage to Robert Veigh Hoyt on September 29, 1951. Joyce began work as a nurse aid for the Three Rivers Hospital for many years. She then went on to work for Buy Low Grocery Market and in her later years was a custodian for the Three Rivers School District.
Joyce was a dedicated mother of eight children. Her family has always been the center of her life. At every stage of her life Joyce made many lasting friendships and everyone will remember her loving smile and extreme kindness.
Mrs. Hoyt was preceded in death by her parents, her husband, infant son Richard, infant daughter Sharon, brother Robert Pierce, son-in-laws, Jack VanScoik and Christopher Shelhamer
She leaves to cherish her loving memory, five daughters, Linda (Jim) Auskalnis, Kathy (Brad) Hartzell, Brenda VanScoik, Darci (Kurt) Miller and Amy Shelhamer; three sons, Dale (Patricia Sabeck – Cooper), Dennis Hoyt, and David (Gina Stickney) Hoyt; two sisters, Pat Green and Jean Johnson. Several grandchildren and great-grandchildren and many friends.
The family will receive friends from 2:00 p.m. – 4:00 p.m. on Sunday, June 26, 2016 at Hohner Funeral Home.
Funeral Services will be held at 11:00 a.m.  on Monday, June 27, 2016 at Hohner Funeral Home with Pastor Bob Anderson officiating.
Interment will be held at Moorepark Cemetery.