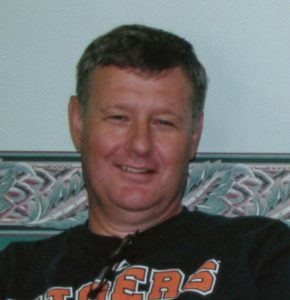 Pastor Kenneth W. Miller, age 58, of Sturgis, went to be with his Lord and Savior peacefully on Thursday, June 16th, 2016 surrounded by his loving family after a courageous battle with cancer. He was born in Sturgis, MI. on Sept. 19th, 1957 the son of Mr. Ezra and Edna Miller.
Pastor Ken and his wife Julia began leading the Moorepark Community Church in 1995 until the present. Pastor Ken's passion was his family, his grandchildren, his service to His Lord and Church, and those he gently and wisely served over his ministry.
Pastor Ken loved gardening, fishing, boating, and especially his Church Softball League.
Pastor Ken was preceded in death by his father Ezra, and one brother, Bill Miller.
He leaves to cherish his loving memory, his wife of 38 years, Julia (Bontrager) Miller, of Sturgis; mother, Edna Miller, of Sturgis; one daughter, Holli (Warren) Buscher, of Sturgis; two sons, Hans (Jami) Miller, of Sturgis, and Giles (Emma) Miller, of Three Rivers; seven grandchildren, Grady, Wyatt, Ashlyn, Kendall, Kaylynn, Rockland, and Hartly. two brothers, Maynard (Ruby) Miller, of Kalona, IA., and Devon (Margaret) Miller, of Centreville, MI. Many nieces and nephews as well as a host of friends.
Ken's family will receive friends from 4:00 p.m. until 8:00 p.m. on Sunday, June 19th, 2016 and also from 4:00 p.m. until 7:00 p.m. on Monday, June 20th, 2016 at the Moorepark Community Church, 55701 Wilbur Rd., Three Rivers, MI.
A celebration of Pastor Ken's life and ministry will be held 11:00 a.m. on Tuesday, June 21, 2016 at the River of Life Church, 11162 IN-120, Middlebury, IN., with Pastors Bud Granger, Ken Bontrager, and Tom Harmon officiating.
Interment will be held in White Pigeon Cemetery.
Memorials may be donated to the Moorepark Community Church or the Sturgis Hospice Group. Envelopes available at the church or Hohner Funeral Home. Online condolences may be left at www.hohnerfh.com.