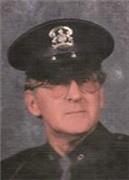 Alec J. McKelvey, age 78, of Colon, passed away Saturday, July 30, 2016, at Borgess Medical Center in Kalamazoo.
Alec was born Sept. 30, 1937, in Newberry, Mich., a son to the late Floyd and Mary Elizabeth (LeBel) McKelvey.
On Nov. 4, 1978, he married Diane (Ward) Stevens in Sturgis.
Alec graduated from Newberry High School and later from the Michigan State Police Academy.
He had worked for the Michigan State Highway Deptartment as a surveyor and later was a state police trooper, working out of the Rockford Post, White Pigeon Post and retired out of the Coldwater Post.
Alec had been a Boy Scout Troop leader, was a true Red Wings fan, enjoyed cooking, loved his Harley Davidson, enjoyed the out of doors camping-fishing, he supported veterans – wounded warriors, and had a great sense of humor.
He is survived by his wife, Diane McKelvey of Colon; children, Max (Ellen) McKelvey of Savanna Ga., Sheryl (Gary) Grieder of St. John's, Susan (Byron) Vanvakias of Ionia, Jon (Jennifer) McKelvey of Portage, Mary (Kurt) Johansen of Sturgis Avison "AG" (Doreen) McKelvey of Billings, Mont., Alec (Melanie) McKelvey of St Clair Shores; step children, Kelli (Mike) Poortenga of Colon, and Todd (Maria) Stevens of Bessemer City, NC; 16 grandchildren; 19 great-grandchildren; and one brother, William (MariAnn) McKelvey of Pahrump, Nev.
He was preceded in death by an infant son, Ben M. McKelvey; and granddaughter Kayley McKelvey.
The family will receive relatives and friends on Tuesday, from 2-4 p.m. and 6-8 p.m. at the Schipper Funeral Home LTD. in Colon. Funeral services celebrating the life of Alec J. McKelvey will be Wednesday, August 3, 2016 at 11 a.m. at the funeral home with Pastor Clint Zehr officiating. A committal service and burial will follow at Lakeside Cemetery in Colon.
If desired the family suggest memorials be made in memory of Alec to the Fallen Troopers Memorial, c/o Michigan State Police Troopers Association, 1715 Abbey Road, Suite B, East Lansing, MI 48823. Envelopes will be available at the funeral home.