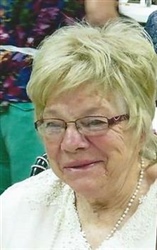 Alice Georgia Johnson, age 87, of Three Rivers, passed away peacefully Friday, July 1, 2016 at her home surrounded by her loving family.  She was born in Mishawaka, IN., on May 27, 1929 the daughter of the late Clarence and Hazel (Beard) Thomas.
Mrs. Johnson was united in marriage to Mr. Kenneth D. Johnson on Feb. 5th, 1949 and together they raised three wonderful children, Janet L. (Karl) Hoffmann, Connie (Jan) S. Daurer, and Patricia A. (Stan) Dick; as well as five grandchildren and nine great-grandchildren.
Ken and Alice have made Pleasant Lake their home for the last 45 years where they have enjoyed family, friends, and summer days.  They also enjoyed and garnered many friendships throughout their trips to Florida where they would spend winter vacations.
The family will receive friends from 10:00 a.m. until time of services at 11:00 a.m. on Monday, July 18, 2016 at the Hohner Funeral Home, with Hospice Chaplain Brian Lutz officiating.
Interment will take place at Chapel Hill Memorial Gardens Cemetery in Osceola, IN. at 11:00 a.m. Tuesday, July 19, 2016.
Memorials may be donated to the Thrive Adult Care; 1107 W. Broadway; Three Rivers, MI  49093.  Envelopes available at Hohner Funeral Home in care of arrangements.