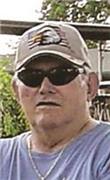 Jerry O. Baughman, age 80, of Colon, passed away Friday, July 8, 2016, unexpectedly at his home.
Jerry was born March 22, 1936, a son to the late Grant H. and Nola B. (Whitford) Baughman.
He had lived most all of his life in Colon, graduating from Colon High School with the Class of 1954. He served in the U.S. Army during the Korean War from July 1954 to July of 1957,
On May 18, 1978, he married Margo I. Wagner in Colon. She preceded him in death on March 31, 2016.
Jerry had worked 49 years, 1957 to 2006 for Colmer Division of Maxitrol in Colon, retiring in 2006. He was also a faithful employee of Fisher Automotive for the past 10 years.
Jerry was a past member of the Colon Fire & Rescue Department, a member of the Colon American Legion Post #454, Colon Masonic Lodge #73 F&AM, AMVETS in Mesick, Two Trackers Four Wheel Drive Club of Kentwood, UTC of Coldwater and had worked as a reserve police officer for Colon.
He is survived by three children, Jodi (Bud) Gross of Colon, Kendra (Carl) Dull of Goshen, Ind. and Chris Baughman of Colon; step-son John (Sharon) Rollins of Colon; six grandchildren; one great-grandchild; sister Patsy Cosway of Gainesville, Fla.; and several nieces and nephews.
He was preceded in death by a step-daughter Dawn Ryan.
The family will receive relatives and friends on Monday, July 11, 2016 from 2-4 p.m. and 6-8 p.m. at the Schipper Funeral Home LTD. in Colon, with a Masonic service being held at 7:30 p.m. conferred by the Colon Masonic Lodge. Funeral services celebrating the life of Jerry O. Baughman will be Tuesday, July 12, 2016 at 11 a.m. at the funeral home with Rev. David J. Farrell officiating. Cremation will follow and burial of ashes will take place in Lakeside Cemetery at a later date.
If desired the family suggest memorials be made to the Colon Fire and Rescue. Envelopes will be available at the funeral home.