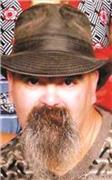 Mark Allen Hendricks, age 46, of Sturgis, passed away Sunday morning, July 24, 2016, at his home, with his loving wife at his side.
He was born Sept. 7, 1969, in Sturgis, a son of the late David Dean and Donna June (Wesse) Hendricks.
Mark was a lifelong Sturgis and White Pigeon resident and a graduate of White Pigeon High School with the class of 1989.
On Oct. 19, 1991, he married the love of his life, Jennifer Skinner, at First Baptist Church in Sturgis, by the Rev. James Bender.
Mark was a talented welder by trade and had been employed by Big Foot Hydraulics, Continental Accessories and Grumman Olson and also had worked at area convenience stores.
He was a member of First Baptist Church in Sturgis and the American Pool Association. Mark had a true love of the outdoors and was a skilled hunter, providing many meals for his family with the game he harvested. He also loved fishing and for several years participated in area bass fishing tournaments.
He is survived by his loving and dedicated wife of 24 years: Jennifer; a daughter, Cassandra Hendricks of Sturgis; a son, Caleb Hendricks of Sturgis; two sisters, Tonya Hendricks of Sturgis and Barbara Cox of Bronson; two brothers, David (Heather) Hendricks of White Pigeon and James (Liz) Hendricks of Howe, Ind.; grandmother Juanita Wesse of White Pigeon; and several nieces, nephews, aunts, uncles and cousins.
In accordance with his wishes, cremation has taken place. A memorial service celebrating the life of Mark Allen Hendricks will be held at 10:30 a.m. Sunday at First Baptist Church in Sturgis. The Rev. Dennis DeMott will officiate.
The Hackman Chapel of Hackman Family Funeral Homes, 114 S. Nottawa St., Sturgis, is entrusted with the arrangements.
Memorial donations to the family would be appreciated, c/o Jennifer Hendricks, 70265 S. Big Hill Road, Sturgis, MI 49091; or The Autism Society, 4340 East-West Hwy., Suite 350, Bethesda, Maryland 20814.
His obituary is also at www.hackmanfamilyfuneralhomes.com, where personal messages of support may be left for the family.