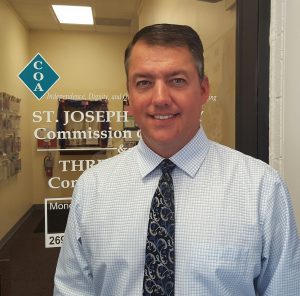 A Colon High School graduate has been named the new executive director of the St. Joseph County Commission on Aging.
Tim Stoll, 44, was offered and accepted the position Monday.
Stoll replaces Lynn Coursey, who resigned last month after a 13-year reign as the agency's leader.
Stoll, a Sherwood resident, said he was excited to be recruited for the position and looks forward to heading up the county agency. He was introduced to county leaders at Tuesday's St. Joseph County Board of Commissioners meeting.
Stoll said his salary is being negotiated.
He previously oversaw assisted-living facilities in Kalamazoo, Battle Creek and Marshall.