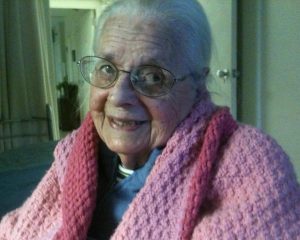 Winifred Cornelia Heivilin, age 91, of Three Rivers passed away on Wednesday, July 20, 2016 at Three Rivers Health. She was born in Greensborough, NC on May 29, 1925 the daughter of Archie and Ruby (Bowen) Bunting.
Mrs. Heivilin has spent many years in this area enjoying her family, especially her grandchildren and great-grandchildren.
She was preceded in death by her husband, Joseph Lee Heivilin and four brothers, Charles, Arrington, Watson, and Moran Bunting.
She leaves to cherish her loving memory, five children, Alen (Sharon), Mike (Pam), and Fred Heivilin, all of Three Rivers, Sharon Heivilin, of Houston, TX., and Mary Ann Shidaker, of Independence, MO.; one brother, Archie Bunting; ten grandchildren and several great-grandchildren.
A memorial service will be held 11:00 a.m. on Tuesday, July 26, 2016 at Hohner Funeral Home with Pastor Brenda Deily officiating. Interment of cremains will follow at Fort Custer National Cemetery beginning at 1:30 p.m.
Memorial donations in memory of Winifred may be directed to the Charity of One's Choice. Envelopes available at Hohner Funeral Home in care of arrangements. Online condolences may be left for the family at www.hohnerfh.com.