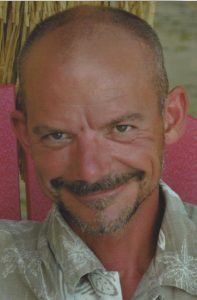 Graham G. Gooden, age 45, of Schoolcraft, MI, passed away unexpectedly Sunday, August 14, 2016.
He was born April 26, 1971 in Kalamazoo, MI the son of James Richard Gooden and Karen "Katie" Jeanne (Thompson) Martin. On January 1, 2001 he married Michelle K. Holston who survives.
Graham was a member of Simple Truth Church, Marcellus and the Three Rivers Community Players. He loved people and was very outgoing. He was known for his kind words, his quick wit and impersonations. Graham loved the Lord as evidence by his passion to worship, pray and minister to anyone and everyone. He enjoyed target shooting, fishing, photography, and spending time with his family.
He is survived by his mother Karen "Katie"(Tom) Martin of Portage, MI, his wife Michelle K. Gooden of Schoolcraft; four sons, Micah, Elijah and James Gooden of Schoolcraft, MI and Richard E. Geraghty of South Bend, IN; one sister, Beth Ann (George) Martin-Guthrie of Lawton; sister in law & brother in law, Howard & Crystal Holston; nieces & nephews Howard N. and Gunnar Holston, Ashley (Roger) Whaley and Lauren (Matt) Wilds; his in-laws Susan & William Sands of Three Rivers. He was preceded in death by his father James Richard Gooden and grandparents Garfield & Virginia Thompson and Jim & Glenola Gooden.
The family will receive friends from 2 to 4 PM and 6 to 8 PM Thursday, August 18, 2016 in the Mater-Ralston Funeral Home, Marcellus. Funeral services will be held at 2 PM Friday, August 19, 2016 at the Simple Truth Church, 94777 M40, Marcellus. In Lieu of flowers the family request memorial donations be directed to the Family.