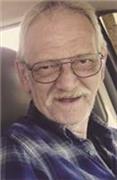 Ricky David Mathews, age 64, of Burr Oak, passed away Friday, Aug. 5, 2016, at Borgess Medical Center in Kalamazoo.
Ricky was born March 8, 1952, in Sturgis, a son to the late D. Fay and Mary Jane (Sanders) Mathews.
He had lived most all of life in St. Joseph County and graduated from high school in Parchment. Ricky served in the U.S. Army during the Vietnam Conflict. He had been employed at American Axel in Three Rivers as a machine operator.
Ricky enjoyed fishing, golfing, reading, camping and video games.
He is survived by one brother, Peter (Gerry) Mathews of Mendon; three sisters, Ruth (Ron) Lilly of Burr Oak, Mary (Lloyd) Tyler of Burr Oak and Dawn (Gerald) Selders of Benzonia; and several nieces and nephews.
He was preceded in death by one brother, Danny Mathews.
The family will receive relatives and friends on Tuesday, at the Burr Oak Missionary Church, in the fellowship hall, from 2-4 p.m. and 6-8 p.m. Funeral services celebrating the life of Ricky D. Mathews will be Wednesday, Aug. 10, 2016 at 11 a.m. from the church with Pastor George Milliman officiating.
Burial will follow in Adams Cemetery. If desired memorials may be made to the family, envelopes will be available at the church or the Schipper Funeral Home in Colon.