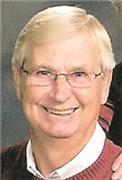 Verlan G. Miller, age 76, of Colon, passed away Monday, Aug. 15, 2016, at Borgess Medical Center in Kalamazoo, after a 23-year battle with cancer.
Verlan was born Nov. 14, 1939, in Burr Oak, a son of the late W. Glenn and Pearl I. (Ultz) Miller.
He had lived all his life in the Burr Oak and Colon area, graduating from Burr Oak High School with the class of 1957. He then continued his education at the University of Michigan School of Banking, University of Wisconsin Banking School and the University of Oklahoma School of Banking.
On Nov. 20, 1960, he married Sandra K. Burke in Sturgis.
Verlan started his banking career at Hickory National Bank of Burr Oak in 1957. Then, Citizens State Bank of Sturgis, E. Hill office of Citizens State Bank in Colon as bank manager, Bank One as vice president and branch manager, Citizens Bank as vice president and branch manager and retired from Sturgis Bank and Trust of Colon as bank manager.
His hobbies included classic car collecting, snowmobiling, attending NASCAR races and collecting Jeff Gordon memorabilia. He enjoyed his up-north getaways with his family, especially sitting by the campfire, enjoyed U-M football, traveling, woodworking, attending school sports activities and spending time with his children and grandchildren and his special family dog, Muffin.
Verlan had attended Colon United Methodist Church, was a member of Colon Lions Club, Colon Kiwanis Club, Sturgis Elks, Sturgis Eagles and had served on the Colon school board.
He is survived by his loving wife of 55 years, Sandra K. Miller of Colon; a son, Mitchell Miller of Colon; a daughter, Colleen (Michael) Saxman of Colon; grandchildren Rachel Miller (Joshua Cole) of Las Vegas, Andrew Miller, U.S. Navy, Norfolk, Va., and Anthony Saxman and Abby Saxman, both of Colon; and a great-granddaughter, Riley Cole of Las Vegas.
In addition to his parents, he was preceded in death by a brother, Duane Miller.
The family will receive relatives and friends 2-4 p.m. and 6-8 p.m. Sunday, Aug. 21, 2016, at Schipper Funeral Home in Colon. Funeral services celebrating the life of Verlan G. Miller will be at 11 a.m. Monday, Aug. 22, 2016, at Colon United Methodist Church. The Revs. John Sterner and David Farrell will officiate. Burial will follow at Lakeside Cemetery in Colon. If desired, the family suggest memorials be made in memory of Verlan to either Colon United Methodist Church or Colon Rescue Squad. Envelopes are available at the funeral home.