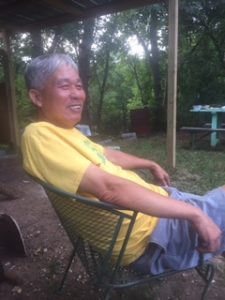 Khankham Luangrath, age 62, Sturgis, passed away Monday, September 19, 2016 at his home.
He was born in Vientiane, Laos on June 25, 1954, to Feune and Peing Luangrath.
An area resident since 1981, Khankham worked at Glen Oaks Community College, Sturgis Foundry Corporation for 20 years, and Pennzoni Display in Sturgis since 2006. He enjoyed fixing things, was a great cook, and loved spending time with friends and family.
Khankham is survived by three sisters, Khankeo (Billy) Kerschner of Centreville, Synoune and Khamphan, and a brother Phoukham all of Laos; nieces and nephews Thavisak (Anita) Mounsithiraj, Thavisith (Jean) Mounsithiraj, Viratham (Amy) Mounsithiraj, Khingkham Mounsithiraj, Manotham Mounsithiraj (Kristen O'Dell), and Michele Kerschner.
He was preceded in death by his parents, sister Damdouane, brother Thongkhoun, and nephew Phonethip.
Cremation has taken place.  Memorial services will be held on October 2nd at Wat Lao Buddha Temple in Vandalia, MI beginning at 9:00 AM.
Arrangements were entrusted to Eley Funeral Homes, Centreville.  Online messages may be left for the family at www.eleyfuneralhomes.com.