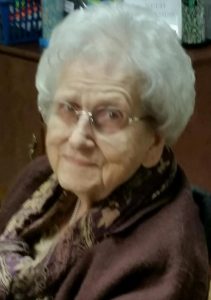 Shirley M. Blum, age 92, of Three Rivers passed away on Tuesday, September 13, 2016 at The Bowman Place of Three Rivers. She was born on January 28, 1924 in Three Rivers, MI the daughter of James William and Treva (Jors) Brycoft.
Shirley graduated from Three Rivers High School in 1942. On December 17, 1943 she was united in marriage to Earl R. Blum.
Music was an important part of Shirley's life and she surrounded herself with all varieties. She sang professionally during her teenage years and sang in "The Messiah" at Chicago's Orchestra Hall as a member of the Swedish Choral Club in 1942.
She was employed as a bookkeeper for Rifenberg Insurance, Stroud Bookkeeping, and Clifton Engineering. She also worked for H & R Block. When she returned to Three Rivers in 1959, she joined St. Peter's Evangelical Lutheran Church and served actively in all aspects of the church. She also belonged to B.P.W., Three Rivers Women's Club, and was very involved with the Carnegie Center of Three Rivers, where she served as a board member. She supported many other community groups and projects.
Shirley was devoted to her Savior, family, church, friends, and community. She dedicated herself and her spare time to making lasting friendships and will be missed by all who were touched by her generosity and commitment.
She was preceded in death by her parents, her husband, Earl R. Blum, infant son, Raymond Blum, sister, Muriel Brody, and brother, James Bycroft
Shirley is survived by her daughter, Connie (Bob) Bibee of TN; son, Jeff (Judy) Blum of Centreville; grandson, Corey (Summer) Pant; great grandchildren, Pierce, Johnathan, Lauren, and Bella; several nieces and nephews.
The family will receive friends from 2:00 p.m. until time of services beginning at 3:00 p.m. on Saturday, September 17, 2016 at St. Peter's Evangelical Lutheran Church of Three Rivers with Pastor Bob Bartz officiating.
Interment will be held at Riverside Cemetery, Three Rivers.
Memorial donations may be directed to St. Peter's Evangelical Lutheran Church or Carnegie Center for the Arts of Three Rivers. Envelopes available at Hohner Funeral Home in care of arrangements. Online condolences may be left at www.hohnerfh.com.