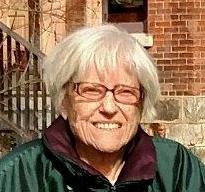 Carol Bernice Boulette, age 99, died at home with her family present after a long illness, on Monday, October 10, 2016.
Born in Constantine, Michigan February 27, 1917 to Clauda Pearl Davis and Franklin Lewis White, Carol attended Three Rivers schools, graduating Valedictorian of the class of 1934. In 1935 she graduated from South Bend, College of Commerce, returning home to work for Fairbanks, Morse Co. Carol married Leo Phillip Boulette in 1938, moving to Chicago where Leo worked for WLS radio and as a free-lance writer. They returned to the Three Rivers area in the early 1940s. Following Leo's death in 1946, Carol raised their three children while working as Executive Director of the TR Chamber of Commerce for 15 years, continuing until 1983 as assistant director after becoming a cancer survivor. She then worked as a travel agent for Red Carpet Travel Agency in Sturgis before becoming the County Coordinator of the American Red Cross from 1984-1997. Following her retirement in at age 80, Carol continued to organize the St. Joseph County blood drives as a volunteer for another 15 years. She was also a volunteer with the local food bank. Carol was active in several organizations, including her church, Michigan Nature Center, ALL (adult life-long learning), Red Cross, Three Rivers Women's Club and Mintdale Ladies. She was honored to be selected as the 2013 Three Rivers Lion's Club Citizen of the Year.
Carol loved life in all its bounty and was especially proud of her family. A lifelong learner filled with curiosity, in 1977 she earned an Associate of Arts degree from Glen Oaks Community College and took classes at WMU. She was an avid reader, attending mystery writer's conferences through the US. She also was an art and theater enthusiast and supported the New Vic Theater for many years. She reveled in nature, camping, swimming, starry skies, mountains, oceans, and traveling to experience it all.
Carol was preceded in death by her husband, parents, and brothers Harold Abel and Dale White. She is survived by her children Janda (Boulette) Volkmer, Steilacoom, WA., Harris (Hap) Boulette (Pat), Schoolcraft, MI, and Marni (Boulette) Todd (Ted), Hanover, In as well as 10 grandchildren, 14 great-grandchildren, 1 great-great-grandchild and several nieces and nephews. Carol was a member of Trinity Episcopal Church in Three Rivers for 70 years where she served on the altar guild. A memorial service is planned for Nov 12, 1:00 p.m. at Trinity Episcopal of Three Rivers. The family is grateful to the Trinity family and St. Gregory's Abbey for their prayers and support. Contributions in lieu of flowers would be welcomed by the foregoing, and by the Michigan Nature Center. The family also expresses appreciation for excellent service from Hospice Care of SW Michigan. Online condolences may be left for the family at www.hohnerfh.com.