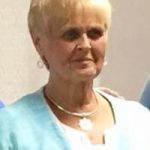 Lucinda "Cindy" Troyer, 67, of Middlebury, Ind., died at 2 a.m., on Monday, Oct. 17, at her residence after a brief battle with cancer. She was born on Nov. 28, 1948, in Elkhart County, Ind., to Ralph E. and Anna Mae (Miller) Hooley. On June 29, 1968 in Middlebury, Ind., she married Jerry Lee Troyer; he died May 1, 2005. Surviving is a sister, Tina (Steve) Tipton of Schoolcraft; three brothers, Randy (Pam) Hooley of Centreville, Brady (Mary) Hooley of Constantine and Tony Hooley of Three Rivers. She was preceded in death by her parents, husband and two sons, Corey and Jeremy Troyer.
Cindy was very social and enjoyed playing cards with her friends, dancing, vacationing and spending time with her family and high school classmates. She enjoyed shopping, was always sharply dressed and had worked as a sales associate at CJ Banks at Concord mall.
Visitation will be from 4-8 p.m. on Thursday, Oct. 20, at Miller-Stewart Funeral Home, 1003 S. Main St., Middlebury, Ind. Funeral services will be at 10 a.m. on Friday, Oct. 21, also at the funeral home. Services will be conducted by Pastor Stephen Middleton. Burial will be in Grace Lawn Cemetery, Middlebury, Ind. Memorials may be given to Goshen Health Hospice. Online condolences may be sent at millerstewartfuneralhome.com.