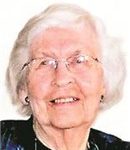 Irene Carrie Parker, age 99, of White Pigeon Township, Sturgis, passed away early Wednesday morning, Oct. 26, 2016, at Thurston Woods Village in Sturgis.
She was born April 21, 1917, in Sherman Township, a daughter of the late Fredrick W. and Carolyn "Carrie" Marie (Walters) Pagels.
Irene was a longtime White Pigeon Township resident. On July 3, 1937, she married Louis F. Parker in Sturgis. He died April 12, 1981.
Irene worked side by side with her husband on the family farm and at the age of 75 began working at Sturges-Young Auditorium in Sturgis, a job she held for 10 years.
She was confirmed at Trinity Lutheran Church in Sturgis. Irene enjoyed crocheting, canning, working with her family on the farm and had a true passion for gardening.
She is survived by two sons, John L. (Rosemary) Parker and Earl D. (Karen) Parker, both of Sturgis; five grandchildren, Julie (Tom) Parker Stanfield of Portage, Rick (Dawn) Parker of Sturgis, Michael (Michelle) Parker of Greenfield, Ind., Christopher (Daniela) Parker of Byron Center and Danielle (Ryan) Oliver of Bangor; 14 great-grandchildren; two great-great-grandchildren; and several nieces and nephews.
She was preceded in death by her parents; her husband; a twin sister at birth; and brother and sisters Mildred Stewart, Alfred Pagels and Erma Swartz, who all died in their order of birth.
The family will receive friends from 6-8 p.m. Friday at the Hackman Chapel of Hackman Family Funeral Homes, 114 S. Nottawa St., Sturgis. Funeral services celebrating the life of Irene Carrie Parker will be held at 11 a.m. Saturday at the funeral home. The Rev. Sam Maddox of Light and Life Wesleyan Church in Three Rivers will officiate. A graveside committal will follow the service at Oak Lawn Cemetery in Sturgis.
The family suggests those wishing to make a memorial donation in Mrs. Parker's memory consider Thurston Woods Village, 307 N. Franks Ave., Sturgis, MI 49091; or St. Jude Children's Research Hospital , 501 St. Jude Place, Memphis, TN 38105.
Her obituary is also at www.hackmanfamilyfuneralhomes.com, where personal messages of support may be left for the family.