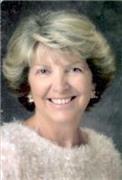 Myrna Marlene Cattell Rodgers, age 76, of Traverse City, passed away peacefully Sunday, Oct. 2, 2016, at her home.
Myrna was born Feb. 16, 1940, a daughter of the late Milton and Eunice (Brouse) Cattell.
She grew up in the Nottawa and Centreville area, graduating from Centreville High School with the class of 1958.
Myrna worked in accounting and financial planning and retired from Munson Medical as a clerk in Traverse City.
She is survived by her husband of 58 years, H. "Red" Rodgers of Traverse City; two daughters, Mona (Chuck) Brayman of Williamsburg and Darla (Don) Notaro of Shelby Township; two granddaughters, Monica (Mike) Mozyolowsky and Hiliary Notaro, and great-granddaughter Mila Mozyolowsky; a sister, Lila (Wayne) Mostrom of Centreville; two brothers, Eldon (Janet) Cattell of Kalamazoo and Randy (Judy) Jones of Climax; and several nieces and nephews.
The family will receive relatives and friends from 1-2 p.m. Thursday, Oct. 6, 2016, at Schipper Funeral Home in Colon. Funeral services celebrating the life of Myrna Rodgers will then take place at 2 p.m. Thursday at the funeral home, with the Rev. David J. Farrell officiating. Burial will follow at Oak Lawn Cemetery in Sturgis.