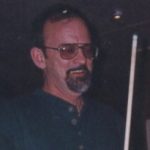 Mr. Jerry V. Rogers, age 72, of Burr Oak, passed away peacefully on Sunday, Nov. 6th, 2016 at his home. He was born on March 1, 1944 in Elkhart, IN.; the son of the late Paul W. and Bertha (Lehman) Rogers.
Jerry has been a long time resident of this area. He farmed for many years with Oak Prairie Farms and later was a self-employed semi-truck driver. Jerry was a member of the Colon American Legion Post #454. He was also an avid pool player for Gregory's Pool League where he made many friendships. He loved to golf and spend time with family.
He leaves to cherish his loving memory, his cherished companion of many years, Michelle Eaton, of Burr Oak; son, Kurt (Tracey) Rogers, of Three Rivers; daughter, Wendy Rogers, of Ft. Wayne, IN.; two brothers, Terry (Jodi) Bishop, of Elkhart, IN., and Gerry Rogers; four grandchildren, Hunter and McKenna Rogers, Todd A. Westendorf Jr., and Dakota Johnson; one great-grandson, Todd A. Westendorf III.
A memorial service will be held at 1:00 p.m. on Saturday, November 12, 2016 at the Colon American Legion, 122 E. State St., Colon, MI.
Arrangements by Hohner Funeral Home.