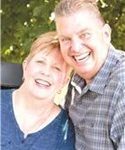 Rita Jo Zerbe, age 64, of Schoolcraft, began her heavenly walk peacefully after a "beautiful fight" with ALS on Wednesday, Nov. 23, 2016.
Although the fight was difficult, her last breath was pain-free, surrounded by her immediate family, her greatest joy.
She was born to her earthly journey on March 13, 1952, in Muncie, Ind., a daughter of the late Herbert Lowell and Ellen (Bidgood) Shroyer.
Rita resided in Schoolcraft since 2005. Prior to moving to Schoolcraft, she lived in Warsaw, Ind., for three years, Sturgis from 1996-2002 and her early life was spent in Dunkirk, Ind., where she was a graduate of Dunkirk High School with the class of 1970. She furthered her education at Taylor University in Upland, Ind., where she received a bachelor's degree in art.
On Aug. 19, 1972, she married Steven Zerbe at Bethel Methodist Church in Dunkirk.
Rita was very artistically creative in nearly anything she did. She owned and operated from her home a full-scale wedding planning business. She could personally take care of every detail of a wedding, from making the dress to baking and decorating the cake. She also was an art teacher. Rita enjoyed teaching and wedding planning, but her true passion was being the loving and dedicated wife, mother and grandmother she was. She and Steve were not just a happily married couple, but a true team together, serving nine churches in California, Michigan and Indiana.
She was a member of Journey Church in Caledonia and she enjoyed gardening, flowers, her artwork and loved sharing her talents with her grandchildren whom she so dearly cherished.
She is survived by her loving and dedicated husband of 44 years, Steve; two daughters, Allison (Ben) Davis of Battle Creek and Erica (Jon) Allen of Caledonia; five grandchildren, Brennan Davis, twins Sydney and Makenzie Allen, Micah and Emma Davis; stepmother Carolyn Shroyer of Dunkirk, Ind.; five sisters, Resa Robertson of Greencastle, Ind., Leslie (Tom) Forrest of Muncie, Ind., Joy (Bruce) Gregg of Ossian, Ind., Mary Kay (Mike) Sterret of Ossian, Ind., and Julie (George) Paulk of Arlington, Texas; four brothers, Lowell "Butch" (Pam) Shroyer of Indianapolis, Paul Huffman of Muncie, Chuck (Susan) Huffman of Dunkirk and Stephen (Beth) Shroyer of Brownsburg, Ind.; and many nieces and nephews.
She was preceded in death by her parents; and a special aunt, Carroll Shroyer.
The family will receive friends from 2-4 p.m. Sunday at Radiant Life Church, 907 N. Nottawa St., Sturgis.
Funeral services celebrating and honoring the life of Rita Jo Zerbe will begin at 4 p.m. Sunday at the church, followed by the serving of a meal and continued time of fellowship in the church's fellowship hall. Pastor Archie Nevins will officiate. A graveside service and burial will take place Monday at Rankin Cemetery in Bunker Hill, Ind. A luncheon will follow the graveside service at Loree Brethren Church on Strawtown Pike.
The Hackman Chapel of Hackman Family Funeral Homes, 114 S. Nottawa St., Sturgis, is honored to be entrusted with the arrangements.
The family suggests those wishing to make a memorial donation in Rita's memory consider the ALS Association, gift processing center, PO Box 6051 Albert Lea, MI 56007; American Diabetes Association , P.O. Box 11454, Alexandria, VA 22311; or Kalamazoo Gospel Mission, 448 N. Burdick St., Kalamazoo, MI 49007.
Her obituary is also at www.hackmanfamilyfuneralhomes.com, where personal messages of support may be left for the family.