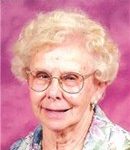 Priscilla L. Somers, 96, of White Pigeon, died Tuesday, Dec. 6, 2016, at New Friends of Kalamazoo, following a brief illness.
She was born July 21, 1920, in Detroit, a daughter of Robert Earle and Mary M. (Plodzik) Handy. She was a resident of the White Pigeon area since 1989, coming from Paw Paw and Plainwell.
She was religious educational director at St. Joseph Catholic Church in White Pigeon and for St. Mary's Catholic Church in Paw Paw. She was a member of The Altar Society, Mothers Club and nursery school in Paw Paw. She most enjoyed her family and helping all children.
On Oct. 28, 1942, she married Arthur J. Somers in Warrensburg, Mo. He preceded her in death July 7, 1990.
She is survived by a daughter, Susan N. (Daniel) Cropsey of White Pigeon; two sons, Thomas A. (Deb) Somers of Allegan and Timothy M. (Marcy) Somers of Lawton; 10 grandchildren; five great-grandchildren; a sister, Sally (Al) Warnement of Sturgis; and several nieces and nephews.
She was preceded in death by her parents; her husband; a brother, Dick Handy; and a sister, Mary Ann Dennany.
Visitation will be from 4-7 p.m. Friday at Farrand Funeral Home in White Pigeon, with Rosary service at 7 p.m. Services begin at 11 a.m. Saturday, Dec. 10, 2016, at St. Joseph Catholic Church in White Pigeon, with the Rev. Robert Moss officiating. Interment will be in St. Margarete Cemetery in Otsego.
Donations may be directed to St. Joseph Catholic Church or a charity of one's choice.