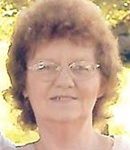 Ruth L. Holmes, age 82, of Sturgis, passed away Monday morning, Dec. 12, 2016, at Adult Nu Care in Sturgis.
She was born July 13, 1934, in Sturgis, a daughter of the late Walter H. and June A. (Murray) Snyder.
Ruth resided most of her life in the Sturgis and Burr Oak area. She attended White School, a one-room schoolhouse, and also Sturgis High School.
She first was married to Don Kuenzel and they had a son, Dale. This marriage ended in divorce. On April 16, 1960, she married Myron "Mike" Hull in Sturgis. He died Nov. 30, 1986. On Nov. 5, 1991, she married Lewis L. Holmes in LaGrange, Ind., and he died Oct. 7, 1995.
Ruth had been employed as a nurse's aide and in the food service department at Sturgis Hospital. She also had worked at Transogram Company and Sturges-Young Auditorium, both in Sturgis.
Ruth enjoyed bowling and dancing.
The family would like extend special thanks to Ruth's caregivers, Julie, Stephanie, JoAnn, Kim and Pastor Moyer.
She is survived by a son, Dale Kuenzel of Sturgis; a grandson, Bryan Kuenzel of Sturgis; three stepsons, Greg (Cindy) Holmes of Fruitport, James (Carla) Holmes of Mattawan and Marion (Susan) Holmes of Sturgis; a sister, Gladys (Tom) Shields of Sturgis; a brother, Charles (Judy) Snyder of Sturgis; two stepdaughters, Jennifer (Darryl) Franklin of Elkhart, Ind., and Pam (Michael) Martin of Kendallville, Ind.; a stepsister, Dona Jean Hagen of Sturgis; and several step-grandchildren, nieces and nephews; and special friends Phyllis and Maria.
She was preceded in death by her husbands; her parents; stepfather Cecil "Jock" Beers; a grandson, Michael Kuenzel; and a brother, Walter E. "Pete" Snyder.
The family will receive friends from 11 a.m.-1 p.m. Wednesday at the Hackman Chapel of Hackman Family Funeral Homes, 114 S. Nottawa St., Sturgis.
Funeral services celebrating the life of Ruth L. Holmes will be held at 1 p.m. Wednesday at the funeral home. The Rev. Rodger Moyer of Sturgis Evangelical Church in Sturgis will officiate. A graveside committal will follow the service at Sturgis Memorial Gardens in Sturgis.
The family suggests those wishing to make a memorial donation in Mrs. Holmes memory consider Hospice of Sturgis, P.O. Box 126, Sturgis, MI 49091; or Special Olympics Michigan Area 18, 62445 Shimmel Road, Centreville, MI 49032.
Her obituary is also at www.hackmanfamilyfuneralhomes.com, where personal messages of support may be left for the family.