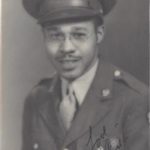 Ervin C. Haithcock departed this life Jan. 23, 2017.
He was born to Claude and Thelma Haithcock in Kalamazoo, Sept. 29, 1921.
Ervin attended schools in Kalamazoo. He was called into the Army and fought in the European Theater of Operations during World War II.
After being discharged, he married Louise and moved to Lansing then later to Three Rivers. Here, he worked at Peterson Springs.
Ervin was the president of the P.T.A. at Huss School and also worked with Cub Scouts. He was a Real Estate Associate for a number of years.
Left behind is his wife of 71 years, Louise; four sons, Dr. Roderick (Dr. Rhoena), Rodney, Ronald, Dr. Robyn (Lisa); six grandchildren, Dr. Benjamin (Dr. Carmen), Dr. Daniel (Yolanda), William (Stephanie), Douglas (Jasmine), Robyn and Lisa; great-grandchildren, David, Gabriell, John, Luke, Connor and Zekiah. One niece, Carla (Dean) Vertz; great-nephews, James (Lisa) Ladd, Jordan Ladd and Joseph Ladd; one great-great-nephew, Isaiah Ladd. Special cousins, Fred and Mary Singer, Wanda Anderson, Tony Whitfield and Terrel Whitfield.
Ervin's father, mother, sister and one great-niece predeceased him.
Funeral services will be held at 11:00 a.m. on Saturday, January 28, 2017 at Hohner Funeral Home. Interment will be held at Riverside Cemetery, Three Rivers.