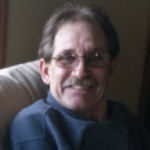 Gregory W. Osborn, age 60, of Constantine, passed away Wednesday, January 4, 2017 at his home. He was born in Three Rivers on January 18, 1956, a son of Franklin and Betty (Flack) Osborn. Greg attended Constantine Schools with the class of 1974. On June 24, 2006, he married Sandy Longmore in Centreville. Greg was employed as a supervisor at Haulmark Industries of Bristol for 23 years. He enjoyed traveling, being outdoors and playing golf with his dad. Greg's greatest pride and joy were his children and grandchildren, cherishing time spent with them. He also loved his dogs Daisy and Ella, and cat Smokey.
Surviving are his mother Betty Wagner, Three Rivers; wife Sandy Osborn, Constantine; daughter Mary (Chris) Reynolds, Mishawaka, son Nathan (Amanda) Osborn, Three Rivers, and their mother Carolyn (Christophel) (Tom) Jones, Constantine; step children Marissa (Chris) Warren, South Bend, and Steven (Kim) Fischer, Indiana; grandchildren Hunter, Landon, Malia, Aubrey, Lucas, and Aubree; sisters Rebecca Hummel, Three Rivers, and Manda (Eric) Outman, Kalamazoo; and many nieces and nephews. He was preceded in death his father, brother Michael Osborn, and step father Bill Wagner.
Relatives and friends will be received Sunday from 2-5 pm at Eley Funeral Home in Constantine. Services will be held at 2 pm Monday at the funeral home with Pastor Jason Proffitt, Grace Apostolic Church of White Pigeon officiating. Memorial contributions may be directed to Crossroads Veterinary Clinic Donation Account. Online messages may be left for the family at www.eleyfuneralhomes.com.