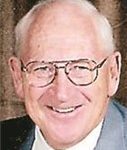 John Richard Cary, age 85, of Burr Oak, passed away on Thursday, Feb. 23, 2017, at his home.
He was born Aug. 3, 1931, in Kendallville, Ind., a son of the late John Russell and Ruby (Riehm) Cary.
John was a veteran of the U.S.Navy, serving from 1951-1955. He was stationed with the "Blimp" Navy in Weeksville, N.C., and was also an air crewman on the U.S.S. Franklin D. Roosevelt aircraft carrier.
On April 30, 1955, he married Eleanor Rerick at Sturgis United Methodist Church.
They resided at Lake George just north of Angola, Ind., from 1968-1999, when they moved to the farm south of Burr Oak.
John graduated from Sturgis High School with the class of 1950 and from Tri-State College with a degree in civil engineering. He worked his entire career for the Indiana Department of Transportation, both as a civil engineer and as a traffic engineer.
He was a member of Burr Oak United Methodist Church and enjoyed fixing cars, cutting gladiolas and woodworking.
Surviving are his wife: Eleanor; two sons, Todd Howard (Nancy) Cary of Alexandria, Va., and Jay C. Cary of Orlando, Fla.; a daughter, Julie Dee (Mark) Ankenbruck of Fort Wayne, Ind.; four grandchildren, Major Justin (Kyla) Ankenbruck of Del Rio, Texas, Kyra (Gabriel) Rude of Ventura, Calif., Dylan (Emily) Ankenbruck of Whitestown, Ind., and Kamie (Matt) Greeson of Salt Lake City; four great-granddaughters, Avery Ann, Brynn Ann and Natalie Joy Ankenbruck, and Isabelle Eleanor Greeson; a brother, Jim (Vivian) Cary of Burr Oak; a sister-in-law, Rachel Sue McCready of Tawas City; and numerous nieces and nephews.
He was preceded in death by his parents; four brothers, Howard, Philip, Scott and Harold; and four sisters, Marjorie Cossairt, Mary Nelson, Julia Mayer and Myra Mayer.
According to his wishes, cremation has taken place. A funeral service celebrating the life of John R. Cary will be held at 11 a.m. Wednesday, March 1, 2017, at Burr Oak United Methodist Church, with the Rev. John Sterner officiating.
Memorial donations may be directed to Burr Oak United Methodist Church or the charity of one's choice . Envelopes are available at the church or Hackman Family Funeral Homes of Sturgis, which has been entrusted with the arrangements.
His obituary is also at www.hackmanfamilyfuneralhome.com, where personal messages of support may be left for the family.