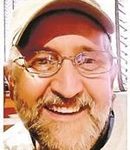 Randy L. VanDosen age 55, of Sturgis, passed away Thursday evening, Feb. 9, 2017, at the Sturgis Hospital emergency room.
He was born Feb. 2, 1962, in Sturgis, a son of the late Donald and Mary E. (Bunge) VanDosen.
Randy was a lifelong Sturgis resident and a graduate of Sturgis High School with the class of 1980.
He enjoyed fishing, walking, working and tinkering on cars and loved time spent with his family, especially his daughters.
He is survived by two daughters, Jennifer Navarro of Oklahoma and Emma VanDosen of California; two grandchildren; two sisters, Teresa (John) Westra of Sturgis and Lori VanDosen Mitschelen of Portage; a brother, Mark (Martha) VanDosen of Sturgis; and several nieces and nephews.
He was preceded in death by his parents; and an infant brother, Donnie VanDosen.
In accordance with his wishes, cremation has taken place. A private family memorial service will be held at a later date.
The Hackman Chapel of Hackman Family Funeral Homes, 114 S. Nottawa St., Sturgis, is entrusted with arrangements.
Memorial donations would be appreciated to the charity of one's choice .
Hise obituary is also at www.hackmanfamilyfuneralhomes.com, where personal messages of support may be left for the family.