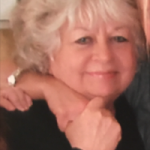 Barbara Jeanne Clarren, 80, of Centerville, Ohio, passed away peacefully, surrounded by family at her home on Friday, Feb. 24, 2017 at 12:45 p.m. She was born in Flint on April 18, 1936, the daughter of the late Robert R. and Dorothy E. (Longenecker) Lintemoot. She attended Three Rivers schools and united in marriage for over 30 years with George Clarren of Sturgis.
Barbara was a devoted and fun-loving mother, grandmother, and great grandmother. The family she leaves behind have fond memories of stopping in to see Mom/Nana and spending hours visiting and enjoying her excellent cooking. She leaves behind six daughters, Pamela Campbell, Kristine Dunn, Kimberly Horton, Suzanne Miesse, Elizabeth Uyeda and Jennifer Clarren; four grandchildren, Nicole Smith, Anne and Chase Uyeda, Nikolas Miesse; and two great grandchildren, Kaitlyn and Julia Smith; a brother, Robert Lintemoot, Jr. and two sisters, Janet Knight and Gail Bolton; as well as several nieces and nephews. P.S. from Mom's girlhood friend, Carole Bailey: Play it cool, man, and don't be a square. Just keep that static in your attic and you will never goof. Do you dig me??
Visitation and service will begin at 9 a.m. Saturday, March 4 at David's Cemetery 4600 Mad River Road, Kettering, Ohio. The family wishes to extend gratitude and in lieu of flowers donations may be made to Hospice of Dayton.