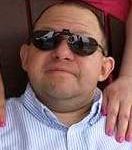 Mr. Scott Douglas Weiandt, age 52, of Portage, passed away peacefully at his home on Monday, March 20, 2017 surrounded by his loving family. Scott was born on October 29, 1964 in Kalamazoo, the son of Mr. Douglas Frank and the late Darlene (Delong) Weiandt.
Scott has been a lifetime resident of this area. Scott had a zest for life and was eternally OPTOMISTIC! He loved music, the arts, all things social media, and especially researching and advocating people on the effects of cancer, which Scott courageously battled for many years.
Scott leaves to cherish his loving family, beloved wife, Donna (Libes) Weiandt, whom he married on July 12, 2002; father, Douglas (Diane) Weiandt; one step-son, David Nisivoccia; step-daughter, Shannon Rose Orlando; four brothers, David, Robert (Tonya), Michael, and Christopher Weiandt; sister, Julie Moss; sister-in-law, Maria (Dave) Ridenour, and one granddaughter, Emma Rose Gomez; as well as many nieces, nephews, and cousins and beloved friends.
In accordance with Scott's wishes cremation will be conducted.  Scott's family will receive friends from 10:00 a.m. until the time of funeral services at 11:00 a.m. on Thursday, March 23, 2017 at the Howardsville Gospel Chapel with Pastor Steve Weiandt and Pastor Billy Creech officiating.
Memorials in Scotts memory may be donated to the West Michigan Cancer Center or Hospice Care of Southwest Michigan. Online condolences may be left at www.hohnerfh.com. Arrangements handled by the Hohner Funeral Home.