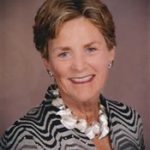 Alice Vandervelde, age 74, of Tallahassee, Florida, formerly of East Lansing, Michigan passed away on Thursday, April 6, 2017. She was born on September 27, 1942 in Lansing, IL the daughter of Peter and Charlotte (Doezema) Boelens.
Alice was an avid artist, specializing in porcelain painting. She also was an active member of St. Peter's Anglican Church, where she was involved in several ministries. While living in East Lansing, Alice spent many years aiding the Hmong refugee community transitioning to life in the United States. Many are still close friends. She was very close to her family, visiting her sister, children, and grandchildren frequently, even as her illness progressed.
Alice now joins her husband, Paul, her sister Sheila and her parents in the company of heaven.
She is survived by her brother Peter, her sister Frances, her children Theodore, Peter, and Soon, as well as grandchildren Joshua, Anneka, Ella, Isaac, and Grace.
The family will receive friends from 10:00 a.m. until time of funeral services beginning at 11:00 a.m. on Saturday, April 22, 2017 at Hohner Funeral Home, 1004 Arnold St, Three Rivers, MI 49093.
Graveside Services will be held following services at Riverside Cemetery, Three Rivers.
Memorial donations may be directed to Hmong Christian Ministries, Attn: Treasurer, 2618 S. Waverly Rd., Lansing, MI 48911. Envelopes available at Hohner Funeral Home in care of arrangements.
Online condolences may be left for the family at www.hohnerfh.com.