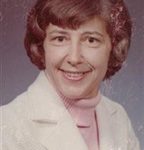 Mrs. Catherine Ann Ball, age 90, of Three Rivers, passed away peacefully in her sleep on Friday, April 7th, 2017 after a long illness.  Catherine was born on July 13, 1926 in Vicksburg, MI., the daughter of the late Mary and Clayton Berger.  She married her husband Robert on December 23, 1947.  Catherine was a graduate of Western Michigan University with a Masters in Education.  She taught for a number of years in school systems in southwest and mid Michigan including Northwood Institute.  She established Ball Realty Services LLC in Midland where she worked for many years as a real estate broker and was President of the local Association of Realtors earning Realtor of the Year honors in 1984.
Catherine enjoyed playing card and spending time with her children and grandchildren.  She was preceded in death by her sister, Dorothy Jane Berger and her brother, Jim (Shirley) Berger.
She is survived  by her husband, Robert L. Ball, of Three Rivers; five children, Craig (Lesa) Ball, of Three Rivers, Alan (Nancy) Ball, of Gilbert, AZ., Pamela (Gerald) Curtis, of Middleville, MI., Dennis Ball, of Three Rivers, and Susan (Edward) Etelmaki, of Midland, MI.; ten beloved grandchildren and seventeen great-grandchildren.
Catherine's family will receive friends from 2-4 p.m. and 6-8 p.m. on Wednesday, April 12, 2017 at the Hohner Funeral Home.
 Memorial donations may be directed to Hospice Care of Southwest Michigan or the Kalamazoo Gospel Mission.  Envelopes available at Hohner Funeral Home in care of arrangements.     
Online condolences may be left for the family at www.hohnerfh.com