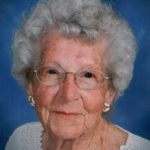 Eileen L. Mostrom, 99, of rural Sturgis, went to be with her Lord on Saturday, April 29, 2017 at her home on Big Fish Lake. She was born in Chicago on November 10, 1917, a daughter of Joseph and Minnie (Brown) Manny. She graduated from Lindblom High School, Chicago, in 1935. On September 26, 1936, she married Eric Mostrom in Chicago. He preceded her in death, after 70 years of marriage, on September 22, 2006.
Eileen lived in Chicago until 1951 when her family moved to their newly built home on Fish Lake. She was a charter member of Fish Lake Bible Church where she served for over 30 years as a Sunday school teacher. Eileen was church treasurer, taught bible school for RBM Ministries for over 30 years, and a past president and life long member of the Mintdale Women's Club.
Surviving Eileen are three children, Wayne (Lila) Mostrom, Ray (Linda) Mostrom, and Linda (Simon) Kemp, all of Sturgis; 12 grandchildren; 22 great grandchildren; and 25 great-great grandchildren and 3 on the way. She was preceded in death by her parents, husband, and brother and sister-in-law Robert and AnnaMae Manny.
Relatives and friends will be received on Tuesday, May 2 from 5-8 PM and Wednesday, May 3 from 10-11 AM at Fish Lake Bible Church. Religious services will follow on Wednesday at 11 AM with Pastor Tim Brondyke officiating. In lieu of flowers, memorial contributions may be made to the Fish Lake Bible Church Building Fund. Arrangements were entrusted to Eley Funeral Homes, Centreville. Online condolences may be left for the family at www.eleyfuneralhomes.com.