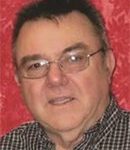 Harvey Robert Schlabach, age 73, of Burr Oak, passed away early Monday morning, April 10, 2017, at his home, surrounded by his family.
He was born Dec 28, 1943, in Litchfield, a son of the late Joas and Barbara (Schwartz) Schlabach.
He worked at Burr Oak Tool and Gauge and retired from Jayco in 2007.
He loved to spend time with his children and grandchildren, farming, hunting, fishing and riding his motorcycle.
On May 19, 1966, he married Katie E Yoder. She survives, along with two sons, Lyle Schlabach and Edward (Pamela) Schlabach, both of Sturgis; four daughters, Barbara (Mark) Peters of Salem, Ore., Bonnie (Tim) McCann of Burr Oak, Melissa (Kevin) Bower of Burr Oak and Patricia (Scott) Smith of Burr Oak, and a very special family friend, Sarah Howard aka "George"; 13 grandchildren, Cole and Clay McCann, Mariah and Megan Schlabach, Austin and Samantha Smith, Isaac and Katie Peters, Madison and Grace Bower, Ryan and Shane Bower, and Krista Dewitt; a great-grandchild, Warren Dewitt; four brothers, Melvin (Ruby) Schlabach of Howe, Ind., Marvin (Kate) Schlabach of Sturgis, Ray (Verna) Schlabach of Colon and Joseph (Jayne) Schlabach of Colon; three sisters, Marjorie (Leroy) Bontrager of Hicksville, Ohio, Mary (John) Schwartz of Sturgis and Dorothy (Henry) Bontrager of Wisconsin; and many nieces and nephews.
He was preceded in death by his parents; two brothers, Gene Schlabach and Lavern Schlabach; and a sister, Susie Bontrager.
The family will receive relatives and friends from 2-4 p.m. and 6-8 p.m. Thursday April 13, 2017, at Grace Christian Fellowship Church in Sturgis. Funeral services celebrating the life of Harvey Schlabach will begin at 10 a.m. Friday, April 14, at the church. Pastor Randy Evans will officiate. A graveside committal will follow the service at Adams Cemetery on Smoker Road in rural Burr Oak.
The family would like to thank workers at Heartland Hospice and Thurston Woods rehab for all the care and compassion they showed Harvey when he was ill.
The Hackman Chapel of Hackman Family Funeral Homes, 114 S. Nottawa St., Sturgis, is honored to be entrusted with the arrangements.
The family suggests those wishing to make memorial donations in Harvey's memory consider Heartland Hospice 8075 Creekside Drive, #120 Portage MI 49024, Thurston Woods Village, 307 N. Franks Ave., Sturgis, MI 49091; or New Beginnings Church, 63022 M-66, Sturgis, MI 49091.
His obituary is also at www.hackmanfamilyfuneralhomes.com, where personal messages of support may be left for the family.