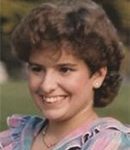 Kelly Jean Gottschalk, age 49, of Howe, Ind., passed away Monday, April 24, 2017, at Parkview Health in Fort Wayne, Ind.
She was born Sept. 14, 1967, in Sturgis, a daughter of Darryl and Sharon (Schrock) Gottschalk.
Kelly had resided in Howe since 1995, coming from Sturgis, where she was a graduate of Sturgis High School with the class or 1986 and a member of the girls' softball team.
Kelly loved the time she was involved in Youth for Christ in Sturgis and especially enjoyed the whitewater rafting trip. She also enjoyed horseback riding, playing softball, music, watching football and NASCAR and loved fishing, especially with her dad.
She is survived by her mother, Sharon Snowden of Howe, Ind.; a brother, Darren (Lisa) Gottschalk of Sturgis; three stepbrothers, Mike (Tammy) Snowden of Quincy, Steve (Debbie) Snowden of Kenton, Ohio, and Jim (Mary) Snowden of Portage; a stepsister, Dee (Rob) Kesterke of Benton Harbor; her significant other, Mike Miller of Howe, Ind.; and several nieces and nephews.
She was preceded in death by her father, Darryl Gottschalk; and a brother, Darryl Gottschalk Jr.
The family will receive friends from 2-4 p.m. and 6-8 p.m. Thursday at the Hackman Chapel of Hackman Family Funeral Homes, 114 S. Nottawa St., Sturgis. Funeral services celebrating the life of Kelly Gottschalk will be held at 1 p.m. Friday at the funeral home. A graveside committal will follow the service at Oak Lawn Cemetery in Sturgis.
The family suggests those wishing to make a memorial donation in Kelly's memory consider Youth for Christ, P.O. Box 382, Sturgis, MI 49091; or Gift of Life Michigan, 3861 Research Park Drive, Ann Arbor, MI 48108.
Her obituary is also at www.hackmanfamilyfuneralhomes.com, where personal messages of support may be left for the family.