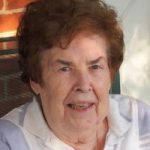 Mildred "Millie" L. Bachinski, 87, of Warren for 43 years, died Tuesday, April 4, 2017 in her daughter's home. Visitation will be held 2-5 p.m. Saturday, April 8, at Sharp Funeral Home and Cremation Center, 6063 Fenton Road, Flint. Burial will be in Mt. Zion Cemetery, Three Rivers, at a later date. In lieu of flowers those desiring may make contributions to McLaren Hospice-Flint or Advanced Medical House Calls of Fenton.
Mrs. Bachinski was born in Detroit on Dec. 30, 1929, the daughter of the late William Edward and Mildred Louise (Miller) Hogan. She married Louis Marion Bachinski in Manistee on Aug. 21, 1948; he preceded her in death in 1997. Both Millie and Louie were graduates of Manistee High School. They were both very proud parents of their four adopted children.
She is survived by four children and their spouses, Jim and Sharon Bachinski of Three Rivers, Theresa Bachinski of Warren, Cathy and David Novick of Grand Blanc and Bill and Lisa Bach from San Jose; six grandchildren, Peter, Paul, Rebekah, Greg Bachinski and Charlie, Lulu Bach. She was also survived by six great-grandchildren. Online condolences may be posted on the obituaries page of www.sharpfuneralhomes.com.