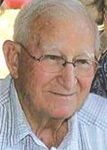 Orvin Perkins, 82, of White Pigeon, died Wednesday, March 22, 2017, at Hospice Care of Elkhart, Ind., following an extended illness.
He was born March 15, 1935, in Lamar, Mo., the son of Clyde O. and Georgia I. (Pilant) Perkins.
A resident of White Pigeon since 1974, coming from South Bend, Ind., Orvin was owner of Perkins Construction Company in South Bend from 1957-1973; Queen of the Road in White Pigeon from 1973-1978; Perkins RV in White Pigeon and Three Rivers from 1973-1987; and worked in RV repair until he retired.
He was a member of the Naval reserve, White Pigeon United Methodist Church, Lions Club for 55 years where he held every office except treasurer. He was a volunteer fireman, member of the Civil Defense, Rotary Club and Boy Scouts, many years serving as Scoutmaster. He was a musician who played the violin in high school and played with local bands. He enjoyed time with his family, camping and motorcycle riding.
On June 25, 1955, he married Judy Ann Sherry in South Bend, Ind. She survives with his children, Sara Ann (Bob) Hoover of Constantine, James O. (Vickie) Perkins of Elkhart, Ind., Katherine J. (Michael) Keith of White Pigeon, Matthew (Michelle) Perkins of South Bend, Ind., Traci (Rob) Knepper of Tennessee, Bruce Skeels of Constantine; 21 grandchildren; 17 great-grandchildren; four great-great-grandchildren; brother, Mark A. (Shari) Perkins of South Bend, Ind.; several nieces and nephews. He was preceded in death by his parents; daughter, Patricia; and four brothers.
A memorial service will be held at 11 a.m. Saturday, April 29, 2017, at the White Pigeon United Methodist Church with the Rev. Scott Manning officiating. Visitation is 10:30-11 a.m. before the service.
Donations may be made to the White Pigeon United Methodist Church steeple fund.
Arrangements were handled by the Farrand Funeral Home of White Pigeon.