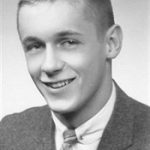 William S. "Spike" Cutler, III, also known as Spike the Barber, passed away on Monday, April 17, 2017 at Three Rivers Hospital. He was born in Three Rivers on August 22, 1942 the son of William A. and Martha J. (Squire) Cutler.
Spike attended schools in Three Rivers, Sturgis, and Springfield, IL where he lived with his mother until age twelve. In 1954 he went to live with his father and stepmother, Jane in Three Rivers where he finished school and graduated with the Class of 1960. He was involved in many sports while in high school, but enjoyed the sport of golf the most.
After graduating high school, Spike attended Moler Barber College in Memphis, TN. He graduated and obtained his license before returning to Michigan to continue schooling at the Flint Institute of Barbering. After passing the state board examination he then went to work at Sam's Barber Shop in Three Rivers until 1966. Spike then opened his own barbershop in downtown Three Rivers. He belonged to Elks Lodge # 1248 and was the P.E.R. in the late 1960's. Spike was also a member of the Sauganash Country Club where he became President in the late 1970's.
Spike retired from barbering after thirty-nine years of business and worked at Three Rivers Commercial-News before retiring from there in 2000. He enjoyed playing cribbage and having coffee with many friends he had made over the years. Spike was an avid Michigan Wolverines fan and was a season ticket holder for twenty-five years also passing the same tradition down to his sons.
Surviving are sons, Peter (Lisa) Cutler, D.D.S. of San Jose, CA and Chad (Jamie) Cutler of Paw Paw, MI; sisters, Mary Middleton and Vicki (Fred) Mericle both of Three Rivers brothers, Robert (Darlene) Cutler of Ann Arbor, MI and Charlie Cutler of Three Rivers;; grandchildren, Angela Cutler, Amanda Cutler, and Courtney Cutler.
In accordance with Spike's wishes cremation will be conducted and a celebration of his life will be held from 1:00 pm to 4:00 pm on Saturday, May 13, 2017 at Hohner Funeral Home.
Memorial donations may be directed to the St. Joseph County Animal Rescue Fund. Envelopes available at the funeral home.
Online condolences may be shared at www.hohnerfh.com