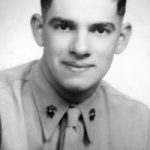 Bert Lee Fosdick, age 82, of White Cloud died Tuesday, May 9, 2017, at his home. Bert was born on Feb. 12, 1935, in Three Rivers, to Milford Theodore and Dale Louise (Comadoll) Fosdick, and was a truck driver for many years
Bert served his country in the Marines, was a member of Amvets, and member of the Bitley Boys. He enjoyed taking his Mustang to auto shows, hunting in the western states, and fishing in the Upper Peninsula.
Bert is survived by his children, Julie L. Dickinson of Fremont, Marvin E. Fosdick of Ludington, Becky Holm of White Cloud, William J. Fosdick of White Cloud, and John L. Fosdick of Bridgeton; five grandchildren, many great-grandchildren; sister, Betty Jones of Three Rivers; brother-in-law, Mick Milhollin; sister-in-law, Joyce Fosdick; many nieces and nephews; and his dogs, Missy and Peanut. Bert was preceded in death by his brothers and sister, Larry "Fuzzy" Fosdick, Peg Milhollin, and Roger "Red" Fosdick.
Services are pending at this time. For a more lasting memorial, friends are asked to consider the Bitely Boys for the Veteran's Home Fund in care of Crandell Funeral Home.  Friends may share memories and condolences online at www.crandellfh.com.
The family will receive family and friends on Sunday, June 4th, at the Three Rivers Elks Club from 1 p.m. to 4 p.m.